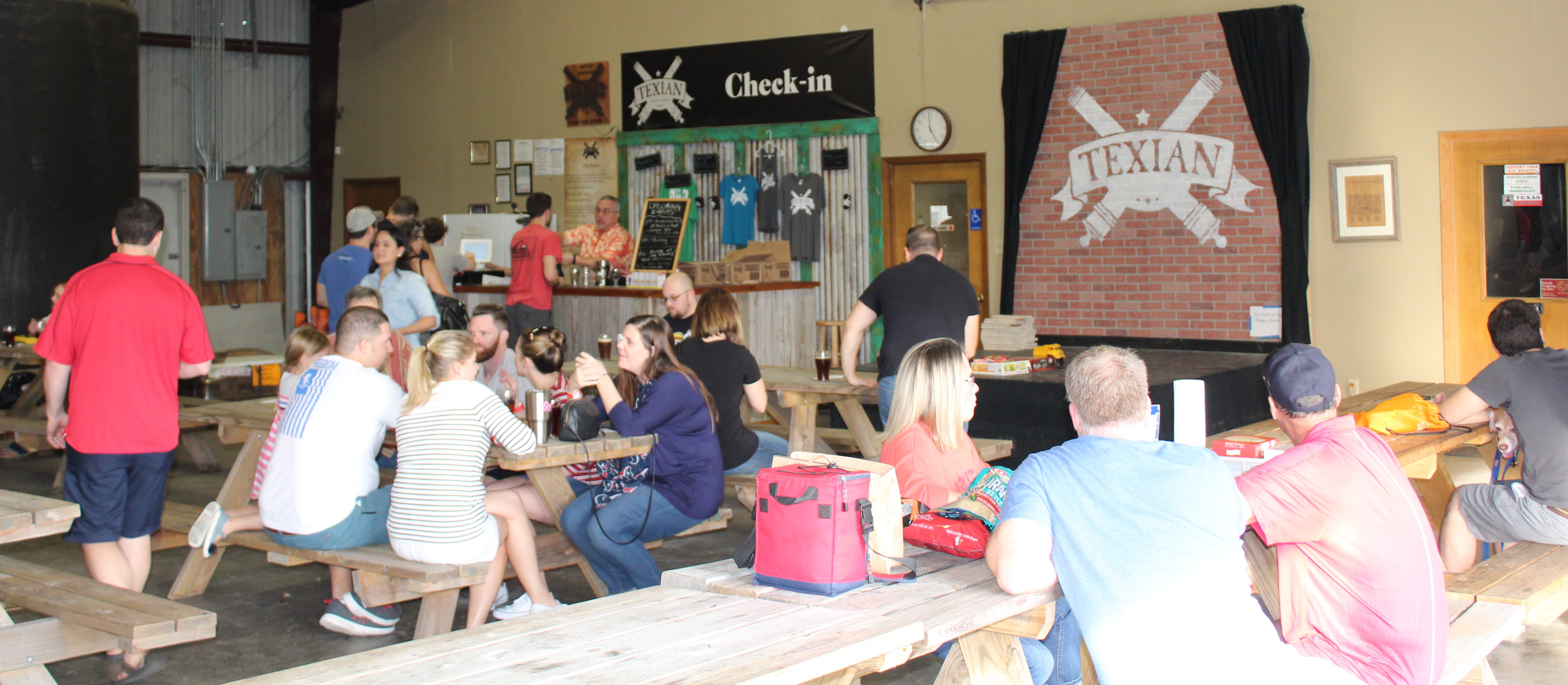 Sours. Sours are something you either love or you hate. I've never met anybody who's been indifferent and doesn't care either way. For me, they're something that I love, which is why Texian Brewing in Richmond has long been a favorite of mine.
There aren't many breweries doing sour-mashed beers in Texas, let alone ones in the Houston area. Blue Owl, New Braunfels, and Texian are the three in the state that come to mind immediately when I think of sour producing breweries. Of those, all have beers available in the Greater Houston area, but only one is actually brewed here. The selection from Texian is outstanding with several releases throughout the year that are appealing to various sour fans and the anniversary party at the brewery this past Saturday was no exception.
Being that it was my first visit to the brewery, our group was surprised by the size of the taproom area inside the brewery. It's a large open area inside with several tables seating at least 50 people with a ton of room for others to stand in line for brews. Plus, the outdoor tables were filled by the time the sun set and the party was in full swing. We were one of the first ones there because we wanted to make sure to get first pick of the full selection without fear of anything running out.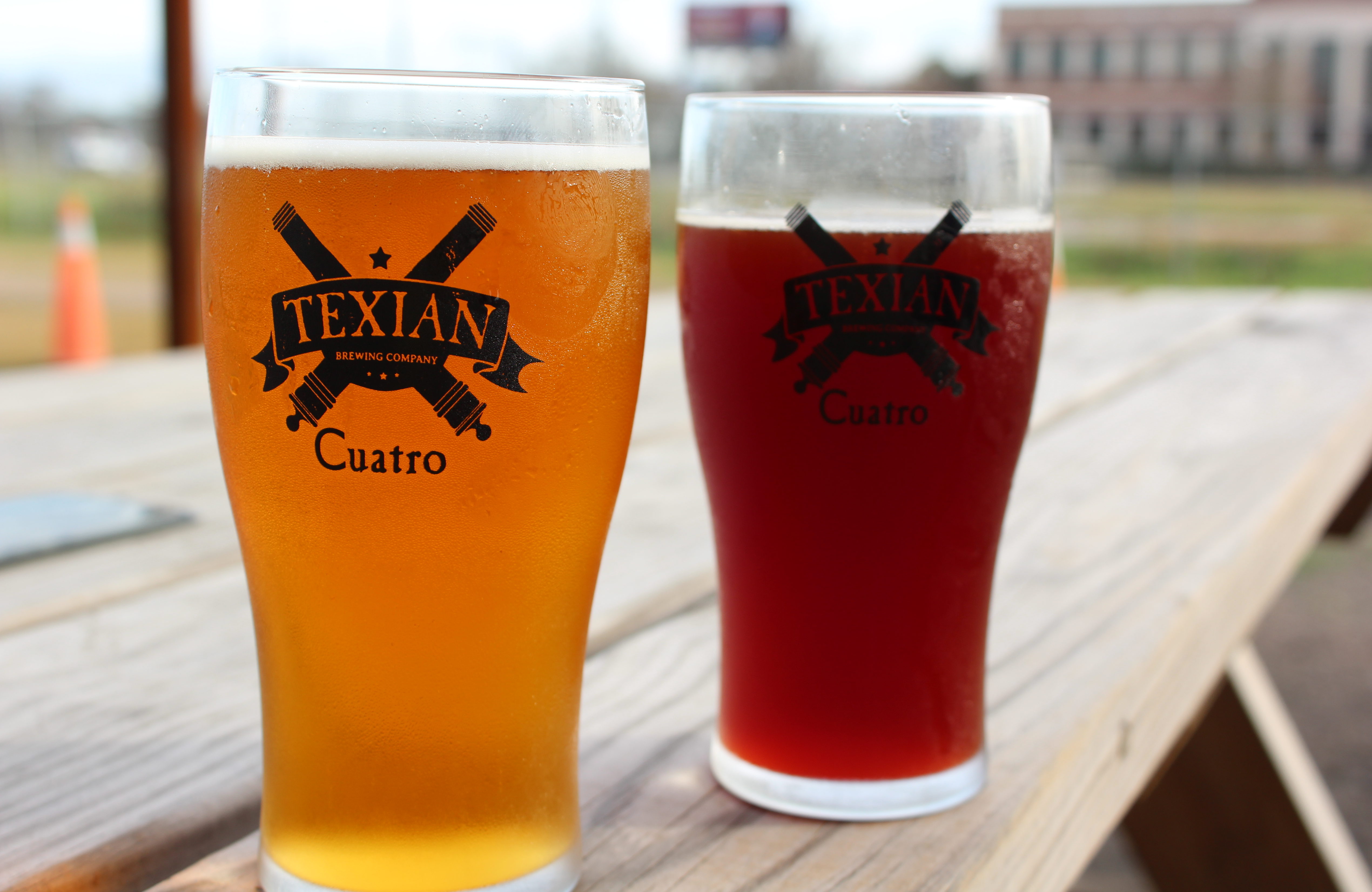 Let's start with the tap list. What can you say about 21 beers being on tap at the same time? Every one of my favorites, including FM 359, Charlie Foxtrot, Aurora, Black Jesus, Donkey Lady, etc were available to try. However, the interesting beers for me were the lesser known brews that are either one-offs or taproom-only. My first beer was Marfa Lights, a golden sour on hibiscus and ginger. This beer was a golden colored, lighter sour that was very floral in flavor. I didn't get any hint of the ginger until the beer warmed a bit and then you tasted the bite of a ginger drop on the finish toward the end of the glass.
Because I've only ever enjoyed Texian sours, it was a nice surprise to find a Small Batch IPA on the tap list, so that was my second choice. The taste was strange and our group was trying to figure out the flavor profile as we each sampled it. Two of the group felt there was a hint of cedar saying, "it tastes like the way a cedar chest smells" while others were saying it had a bit of a cake batter flavor to it. I got a hint of both, but I'm not sure if that's because switching from a sour to an IPA killed my taste buds or not. Either way, I'd like to see this IPA become a more regular fixture with a little refinement to smooth out the finish (perhaps, dry-hopping it?)
I finished the evening with the Watermelon Lime Texianer Weisse. To me, this tasted similar to their Charlie Foxtrot Imperial Berliner Weisse with a less salty finish and a hint of watermelon extract. I enjoyed this beer because it seemed like the watermelon smoothed out and softened the bite of the tart lime. Of the three that I tasted, this one was my favorite and seemed like one that could be a staple brew for the team at Texian right now.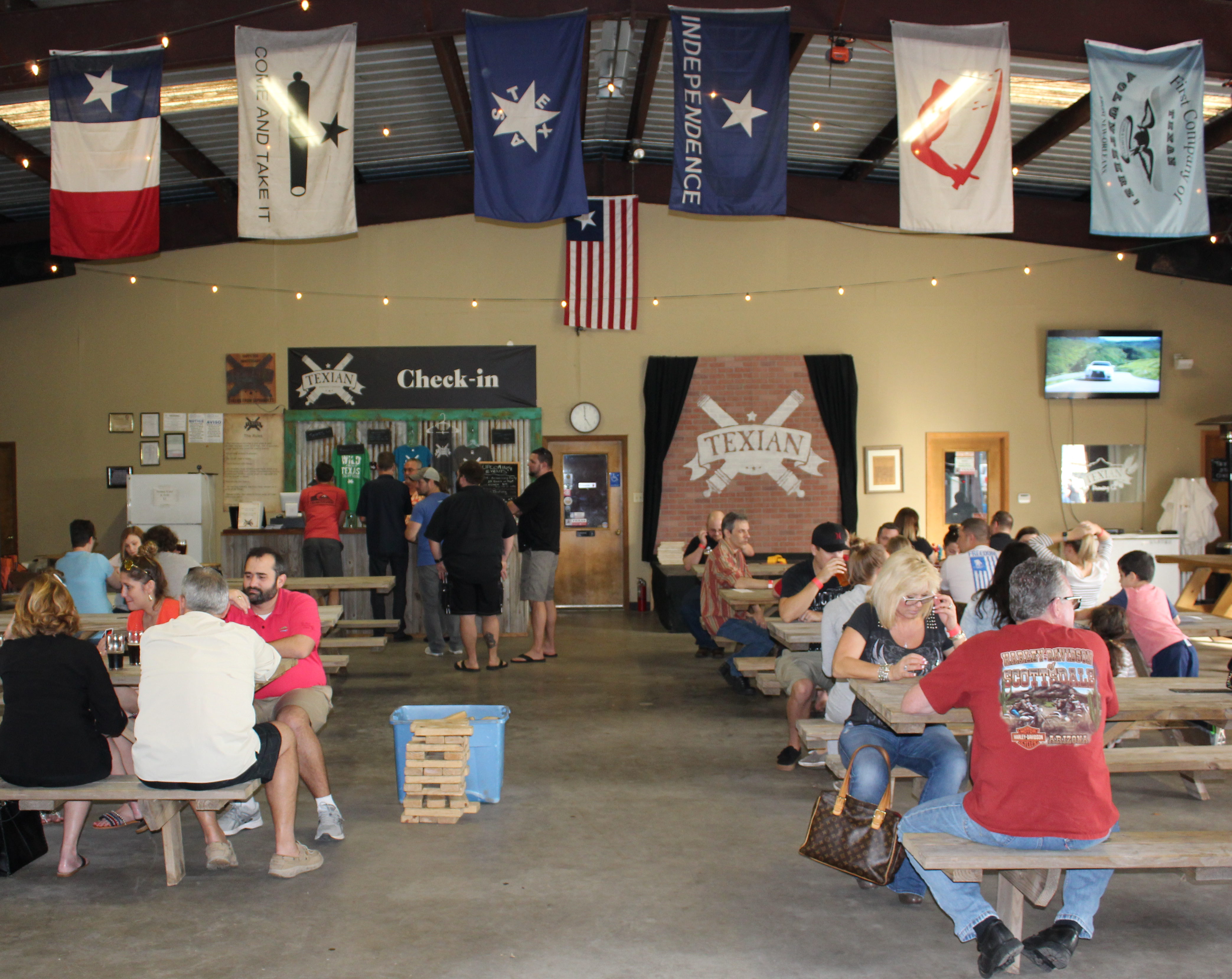 The brewery was absolutely packed with people by 6:00 and every seat was filled both inside and out. Yet, the organization of the separate bars seemed to keep lines short and people getting beers quickly, which was pleasant. As the sun set, a huge inflatable screen was setup outside with a projector displaying the NFL playoff games, making the event nicer for many of the people there. I was hoping to catch up with Caleb Wilson, the brewmaster at Texian, but didn't get too much time with him. However, I will be talking with him in the future to get his take on his sour beers and what's to come in the future.
I hope people become more aware of this brewery out in Fort Bend County because they are putting together some solid beers that should be on the top of your list to try. My recommendation is to try Donkey Lady or Black Jesus as those two are my favorites from them. I can't wait for their next anniversary party or tap takeover since there needs to be more sour representation in Houston.