I'm not usually a "first-class" kind of guy. When we travel, we usually stay in cheaper Airbnb lodging or camp in state parks. We've never flown in the first-class cabin. Hell, I couldn't even tell you the difference between first-class and business-class, but I have this "coach" thing down. But, for one day, I felt like I got the first-class experience while hanging out with the kind of people who are down-to-Earth. Now…I don't know how I can ever go back.
Riding along in the San Antonio Craft Cruiser gave me that first-class experience at each stop. It seemed like everything stopped when we walked in and we were the main event. Whether it was a location opening early for our group, the brewery walkthrough, the brewery tour, or the customization, it was clear the Craft Cruiser got us the VIP treatment.
We're positive that owner/operator, Dan Ward, has the kind of effect on people that shows he's a relationship builder and one who genuinely loves craft beer with the same passion that we do. We noticed that he was jumping behind the bar serving us some beer, talking about how he helped build a brewery entertainment system, conversing with a brewery about when he could volunteer next. It was refreshing to see and something that gave us good vibes throughout the tour. I've gotten to know Dan quite a bit over the last year and to see these relationships forged throughout the San Antonio beer community, it doesn't surprise me that he's a popular man when he walks into these places.
Our first little bit of that VIP treatment was experienced at Pizza Italia. The meetup spot for the tour, Pizza Italia opened early to let us sample some beer while our pizza was being made. Our host at Pizza Italia, Uncle Larry (as he insisted on being called) clearly knew Dan and was comfortable enough to let him serve up some samples to our group. Our all-inclusive package got us free lunch and free beer throughout the entire day. The samples at Pizza Italia were a bonus, and a damn good one too. Unlike most other pizza places, they had 30 taps of craft beer (about 2/3rds of them were Texas) and another 150 canned and bottled beer in stock. Our favorites from the tap wall were two Strange Land beers – the Fleur D'Oranger Belgian Tripel and Entire Porter, as well as Legal Draft Brewery's Impeachment IPA. Since these are rare for me to get in the Houston area, I pounced on the opportunity to try them all.
But we'd be remiss if we didn't at least mention the food in this quaint pizza place, right? Especially considering that it was some of the best pizza we've had in a while. Uncle Larry made sure to cater to the two vegetarians of the group with a Veggie Mia pizza, while the rest of the group enjoyed a full pepperoni pizza and a half and half pizza of Texas Smokehouse Chicken and Mama Mia (the works).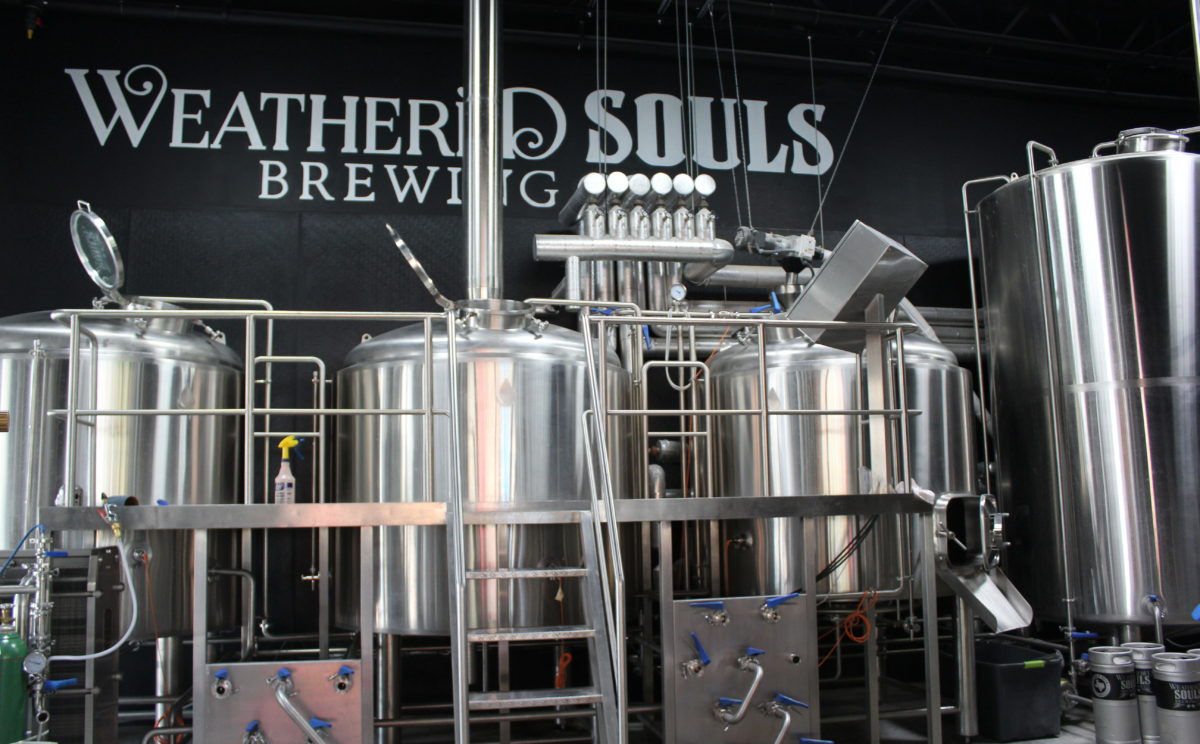 After filling our stomachs with pizza and some beer samples, we were on our way to stop one: Weathered Souls Brewing. The first class experience continued as we got there and immediately were greeted by the two taproom employees. It was clear that Dan was great friends with the staff. Steven, the taproom manager and novice brewer, explained all of the beers and came up with a custom flight for our group.
The night before, we visited Weathered Souls to try out the beer and noticed that the flights are usually only limited to the flagship beers. This time around, we were able to get two of the limited run brews in addition to the two flagship brews. Our flight was the Dalé Shine Mexican Lager, the Rule 4080 Pale Ale, the Who Got the Juice Now NEIPA, and Round About Midnight Porter. The Who Got the Juice Now NEIPA was out of this world and, as we later found out, our taproom manager Steven brewed that as his maiden brew with assistance from head brewer, Marcus.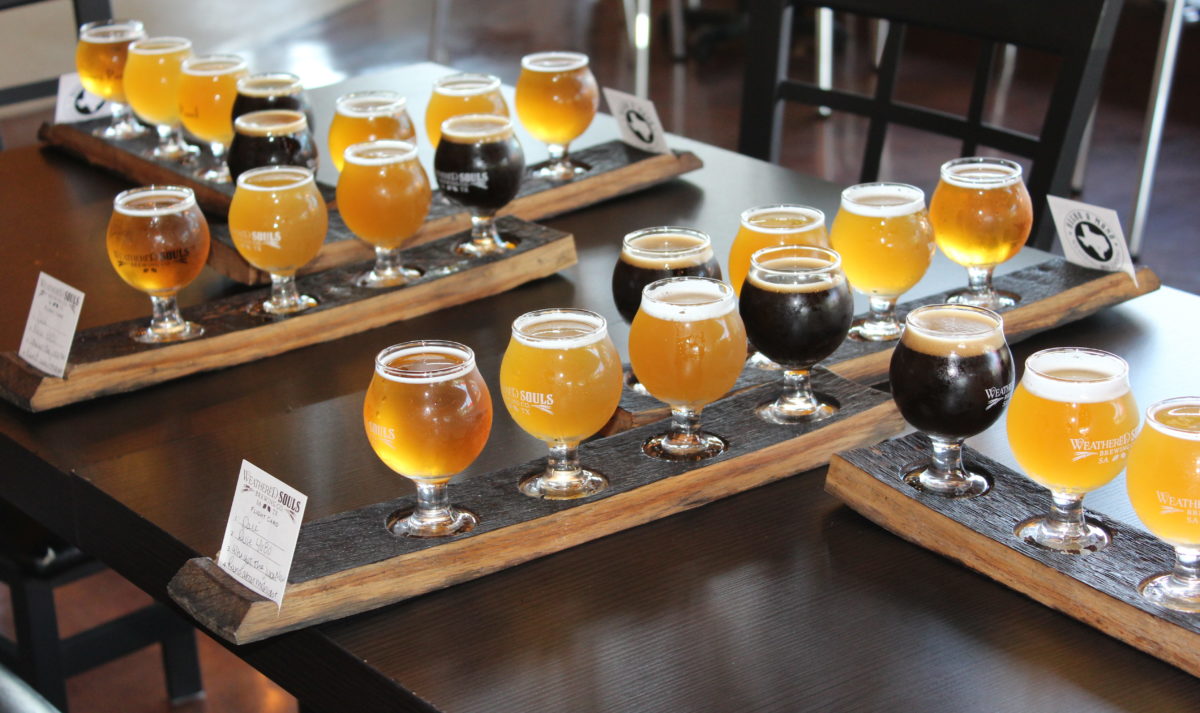 We learned a lot at Weathered Souls. The tour Steven gave us was amazing as he discussed the brewing process in depth and was one of the more thorough tour guides we've ever witnessed. We discovered that the entertainment system behind the bar was partially built by Dan as he helped with construction during their buildout. Also, while enjoying our beers, we got to know the rest of our tour group and started to understand the dynamic that made us all genuinely enjoy each other's company. It's almost as if the Craft Cruiser brought out the fun in each person since we all had our designated drive. The small sample of the SpottieOttieHopalicious NEIPA we were given to-go was a nice bonus, as well.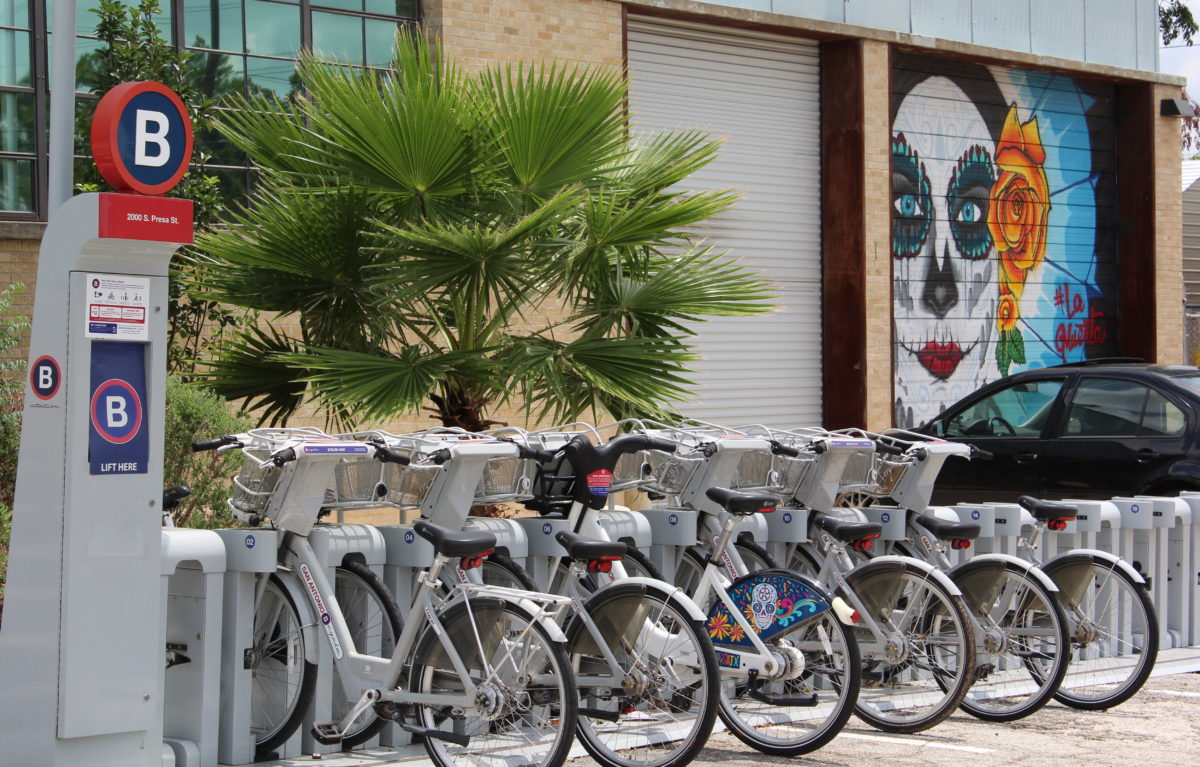 Stop two? Freetail Brewing Company. The flight options at Freetail were a dealer's choice, so my wife and I each chose four different beers to ensure maximum coverage of the tap wall. One of the more exciting reasons to visit the production brewery was the number of Ghost Pixel beers on tap. Ghost Pixel Beer Studio is the side project of Freetail's founder, Scott Metzger, and is definitely more experimental in their stylings. Flight one consisted of the Yo Soy un Berliner, Heinskitz Velvet (Ghost Pixel's dry-hopped kettle sour), Tropical Punch Bexarliner, and Frag Out (Ghost Pixel's double dry-hopped IPA). Flight two's choices were the Rye Wit, San Antonio Pale Ale, Ready Player One (Ghost Pixel's dry-hopped saison), and Belgian Hostel Slumber Party (Ghost Pixel's Belgian-style stout).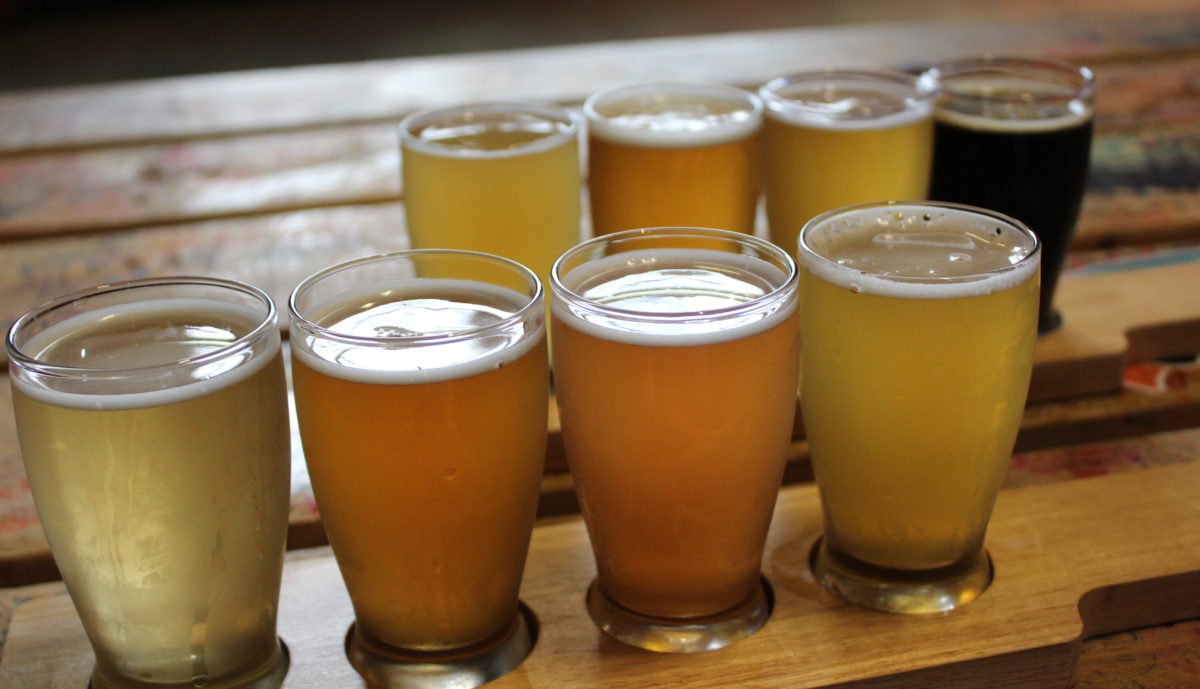 Our favorite beers out of the group were the Heinskitz Velvet, the Frag Out, and the San Antonio Pale Ale. All three beers were executed to perfection and made for quite the game of tug-of-war over who was going to drink more of each sample. My wife preferred the Frag Out as her standout winner, while I was torn between the kettle sour and the pale ale.
Freetail was where our group started to let loose and realize how much we had in common as craft beer lovers. For example, one guest told stories of his meticulously planned beer-sharing events. Another couple in our group was originally from California and really took pride in the San Antonio beer scene, stating that it should get the same credit as other areas on the West Coast. No argument here.
Finally, ever-professional and ever-prompt Dan took us on to our final stop of the day, Busted Sandal Brewing. This blue collar brewery captured our hearts as they employ many of the DIY methods that some of our favorite breweries in the state do. We've always had a soft spot for the breweries who use a little bit of "redneck ingenuity" with their craft.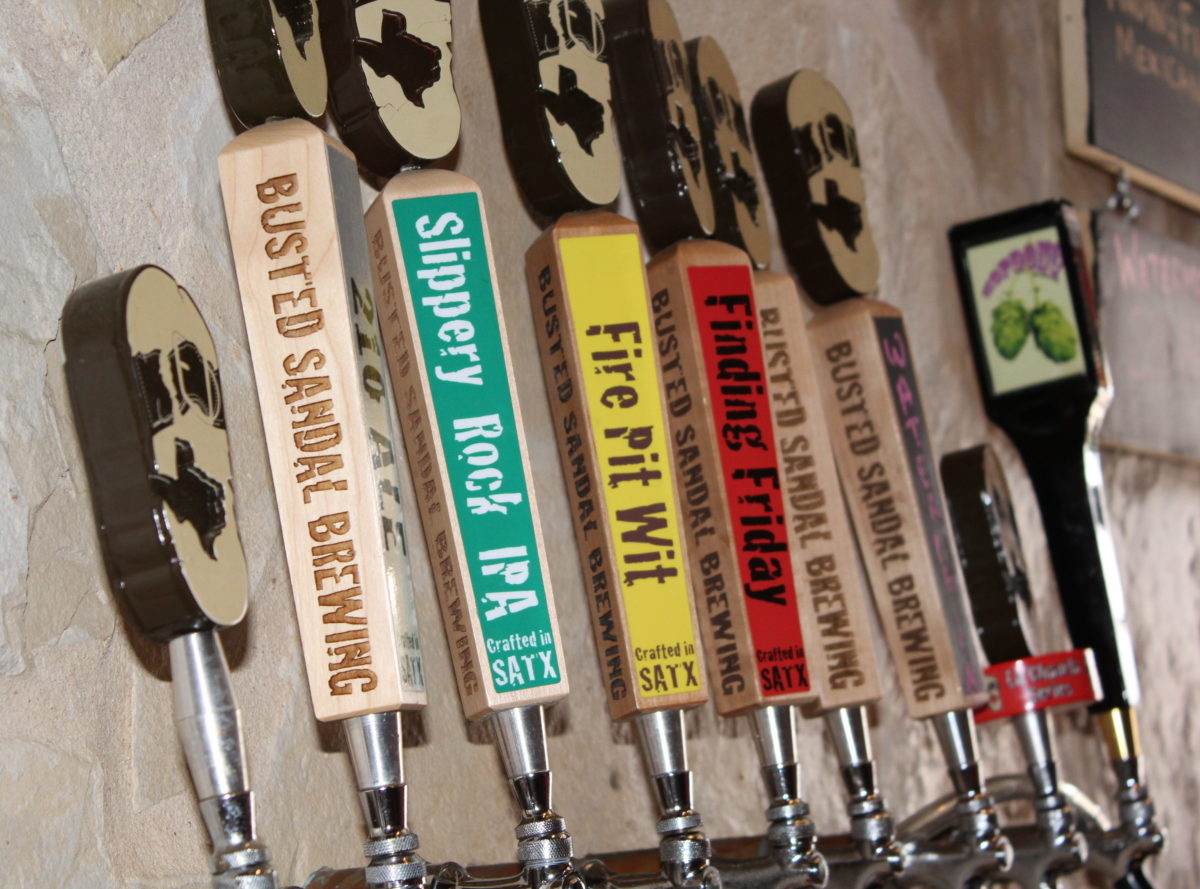 We were able to order a pint at Busted Sandal, which we enjoyed during our complete behind-the-scenes tour of the brewery. I ordered the Finding Friday Mexican Lager, which was outstanding while my wife was enamored with their new IPA, Hop Dong (yeah…just yeah). Taking the pints behind the small taproom gave us a first-hand experience of what it's like as a Busted Sandal employee. Founder and brewer, Mike DiCicco explained their entire brewing process, but unlike our other stops, also showed us their working canning line in action. Slippery Rock IPA was being canned and he wanted to rush us back there before they finished their run for the day. We got to be right in the thick of things as we watched the cleaning of the new cans, filling with beer, and sealing before packaging. As this was the first time for some of the group to see the process, it really opened some eyes to how much work goes into favorite beers before hitting store shelves.
That same evening, Busted Sandal was getting ready for their big collaboration fundraiser with Freetail and Left Hand Brewing out of Colorado benefiting multiple sclerosis research. The beer release for the event was called Acoustic Motorcycle and the staff was working diligently to get everything ready to go. However, it didn't stop the owner from taking time out of his work to give us the grand tour. He even understood how hot it was in the brewhouse, so he took us in the cold storage room to give us an idea of their keg storage, but more importantly, to cool off and get comfortable again.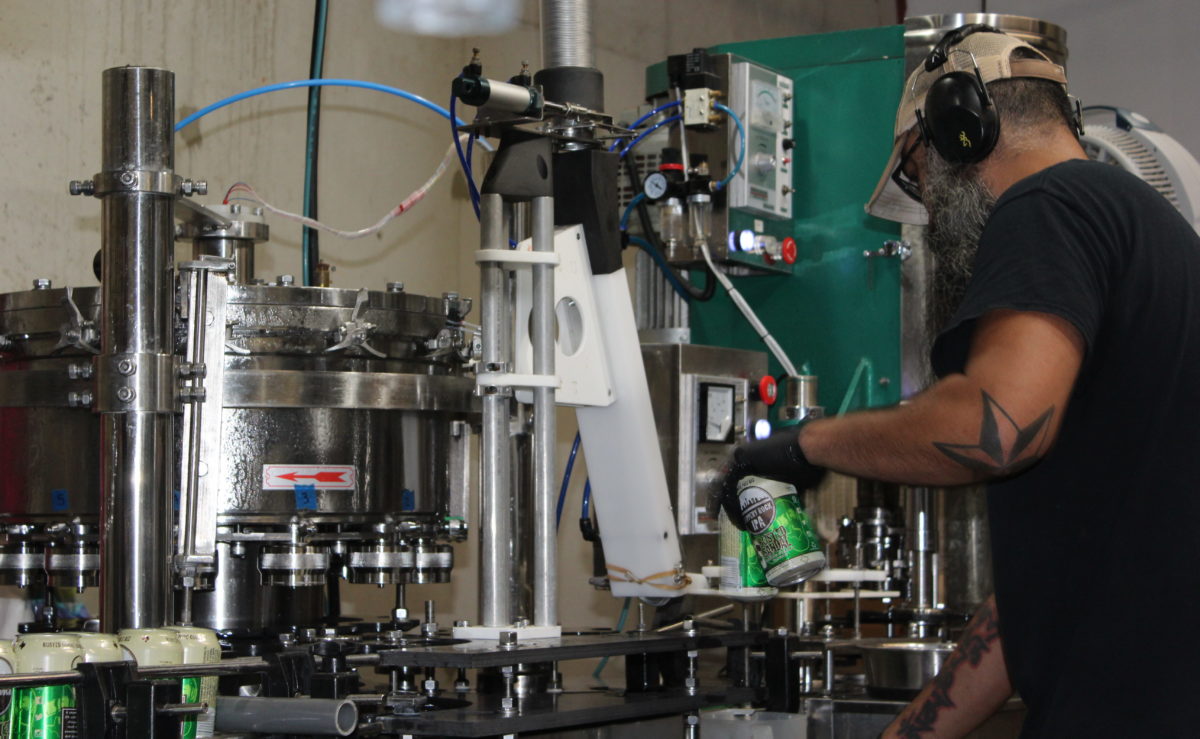 Finally, the grand finale of the tour was Mike taking us to see what will become their new taproom. They recently acquired the space next door to their current taproom and will probably triple their space, allowing more people to enjoy their beer on-site, while also allowing them a larger tapwall to put upwards of 20 different beers on tap at a time. Mike stated that he wants to do more experimental, taproom-only beers, which should only generate more interest in what Busted Sandal is doing.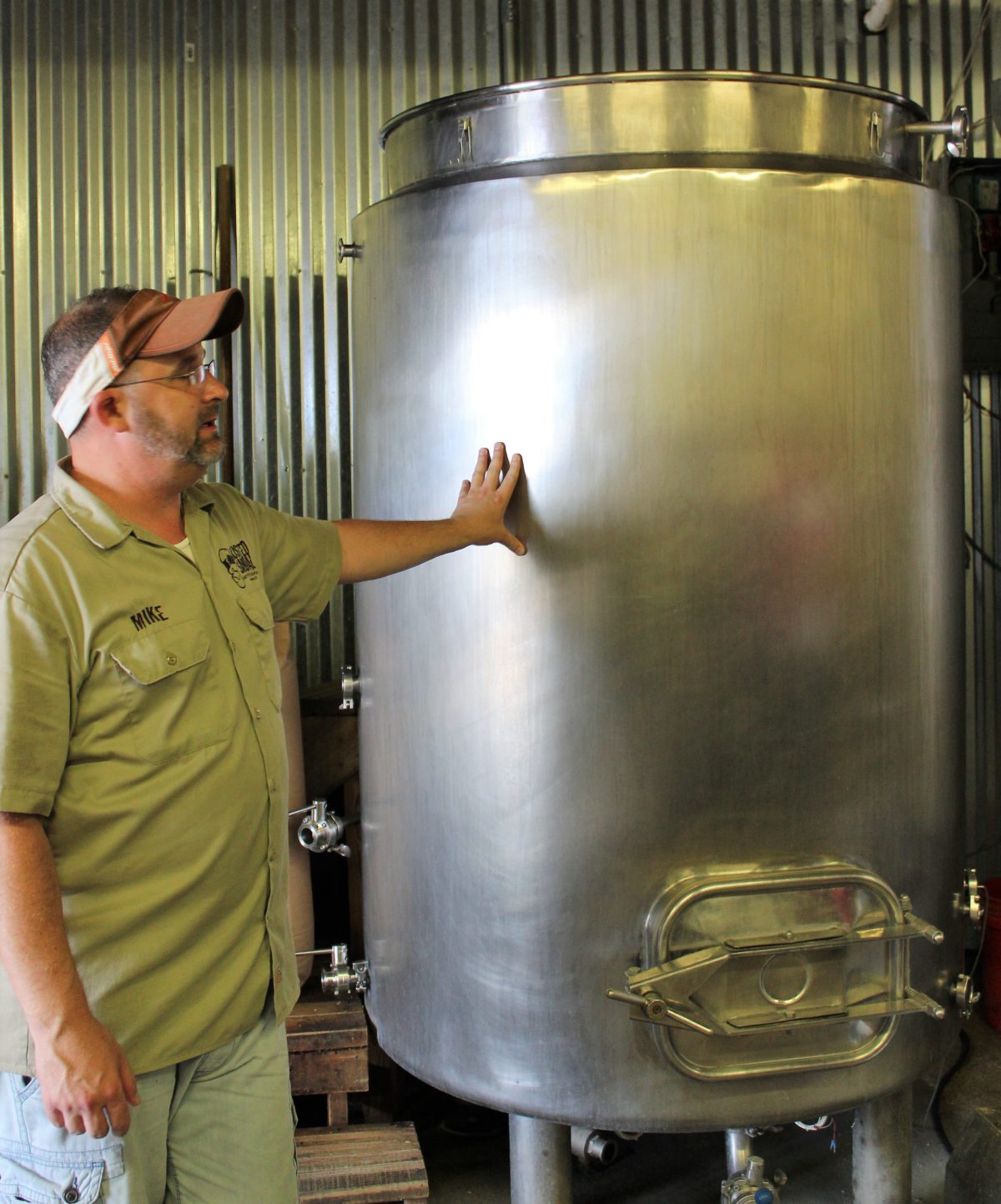 Again, we also learned of Dan's generosity with this brewery as well. He regularly volunteers to help out at the brewery in any capacity and has built an incredible rapport and friendship with the entire team – the owner, brewers, taproom manager, etc. Plus, he arranged for us to get another half-pour of beer to-go as our tour ended.
The San Antonio Craft Cruiser was even more fun than we imagined. We envisioned an eventful and entertaining day, but had no idea it would be this special. Between the cost being a bargain for what is included and the enjoyability of meeting other craft beer lovers, we know this is going to be something we will be doing again. You can look, but I sincerely doubt that you're going to find a better Craft Cruise Captain than Dan. As an owner and operator, it's clear he takes pride in his business, and his extensive knowledge and contacts in the San Antonio craft brewery scene are sure to impress. The Craft Cruiser has a variety of trip options and destinations, and you can find a listing of their offerings online. Plan a custom trip or even rent out the whole luxury bus for a party. But just remember, we warned you: once you travel in this kind of first-class style, you may never want to tour breweries any other way.
Wanna book a tour with the Craft Cruiser? Click their logo below and also follow them on social media through Facebook, Twitter, and Instagram to find out the places where they are heading.