A friend recently told me of a dream he had in which The Husband and I opened a Brewbary: half library, half craft beer bar. It's a sweet little idea that sends my bookish heart all aflutter, and it also serves as an uncanny metaphor for the whole of my relationship with one Mr. Shade. He's beer, I'm books (and beer.) Just think of it, this magical Brewbary… the comfy chairs, the unobtrusive music, the walls lined from floor to ceiling with books and craft beer bottles. Ah, happy place.
Now snap out of it, and let's all acknowledge that such a venue would pose some fairly daunting practical challenges. For example, the girl nose-deep in Tolstoy and a Russian Imperial Stout would constantly complain about the table of rowdy Game of Thrones enthusiasts. At least once a day, someone would rail against the perpetually muted status of the television. Eventually, some group of MFA candidates would get a little too heated in their discussion of Kafka and, fueled by dank IPAs, they'd start hurling chairs and grammatically perfect insults at each other. Over time, the books would grow sticky and stinky with the spills and sloshes of inebriated readers.
Probably best the leave the Brewbary in the abstract, a lovely dream world where you could order a beer and have it served on a coaster with brew-specific book recommendations. A simpler, peaceful world that we can all just take a moment and mutually long for. Sigh…
Or you could just read on.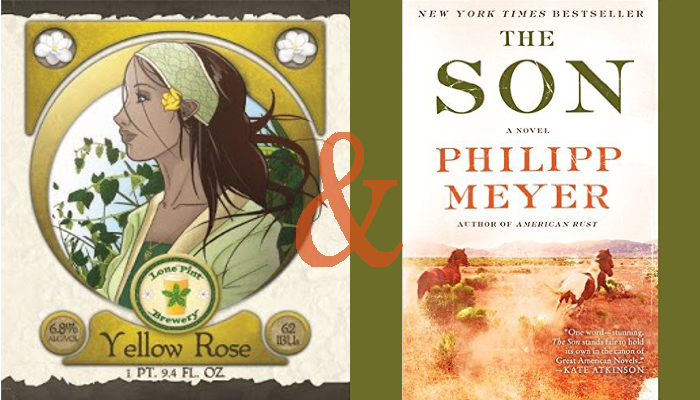 Lone Pint Yellow Rose & The Son, by Philip Meyer
What can be said about Lone Pint's Yellow Rose that hasn't already been said? It's a damn near perfect SMaSH IPA. Grapefruit and blueberry and pineapple and… sorry, I just drooled on the keyboard a bit. It's a beer that has been lauded by critics and sought after by TX craft enthusiasts for years. It is, in my un-humble opinion, one of the greatest beers in the whole damn Lone Star state. And you don't want to fight with me on that one. Since this beer is named after a legendary Texas folk song, it's only fitting that it be paired with a sweeping novel of the state. "The Son" by Philip Meyer covers multiple generations of a Texas family dynasty, from the inception of Texas, to the modern day struggles of the oil and gas industry. Apache abductions, cattle ranches so vast that they are measured in "sections" rather than acres, historical racial divides, and Spindletop. This book has it all. And it's won almost as many awards as Yellow Rose IPA. So these two simple yet solid works of tasteful and well-planned art are perfection together. Warning: you may overdose on the Texana of it all, but that's part of the fun, isn't it? Or should I say "right, partner?"
160ft Beerworks Frankenhefe & Frankenstein, by Mary Shelley
I know! We'll pair 160ft Beerworks Frankenhefe with Mary Shelley's "Frankenstein," right? I mean, it's so obvious. It's so perfect. It's so…cliche. And I really don't want to do it. I instinctively resent pairing a beer from one of the newest and most experimental breweries in Houston with a book that most people merely skimmed in high school to pass an English exam. Frankenhefe, a hefeweizen/blonde mix is the result of some serious mad scientist shit going on at 160ft Beerworks by owner Mike Olenick. It's a study in the duality of beers. It is a mad mashup of banana and wheat with a satisfying ending. It's an exploration of the effects of creating something potentially great, yet potentially uncontrollable. It's…dammit! It's perfectly paired with Shelley's "Frankenstein." But if you happen to find Frankenhefe back on tap at 160ft Beerworks and 199 year old gothic novels just aren't your thing, don't fret. There's always Cliffs Notes, you cheater.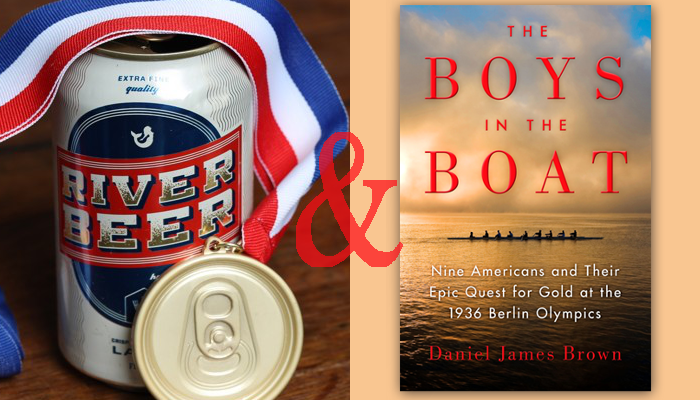 Hops & Grain River Beer & The Boys in the Boat, by Daniel James Brown
Remember floating the river? Sun on face, butt in tube, beer in hand. Remember laughing when you or one of your friends would inevitably get tumped over on one of the little mini-falls along the way? And remember the struggle as you floated along, trying to balance your beer and turn the pages of your paperback sealed inside a plastic baggie…no? Seriously, because I suppose I'm the only person to ever feel the need to bring a book along for an 7-hour float-a-thon down the Guadalupe? I doubt it, but fine. If that's how you want to play it. I'm a nerd and you're way cooler than me, reader. Congrats. But regardless of how you pass your time on the river, Hops & Grain has concocted the perfect American Lager to take along with you. It's light in ABV and refreshing in flavor, a German malty marvel. And I, the nerdy one, think that River Beer, plus a tube, plus a copy of "Boys in the Boat" would make for just about the perfect summer day. Engross yourself in the heroic story of the 1936 U.S. Olympic rowing team and their epic defeat of Hitler's pride in the Berlin games. Float along and just imagine you're a part of that gallant history. You know, if your tube was actually a boat and you were actually an athlete.
Think you've got a book and beer pairing I need to try? Keep 'em coming. kerri@shadetxcraft.com