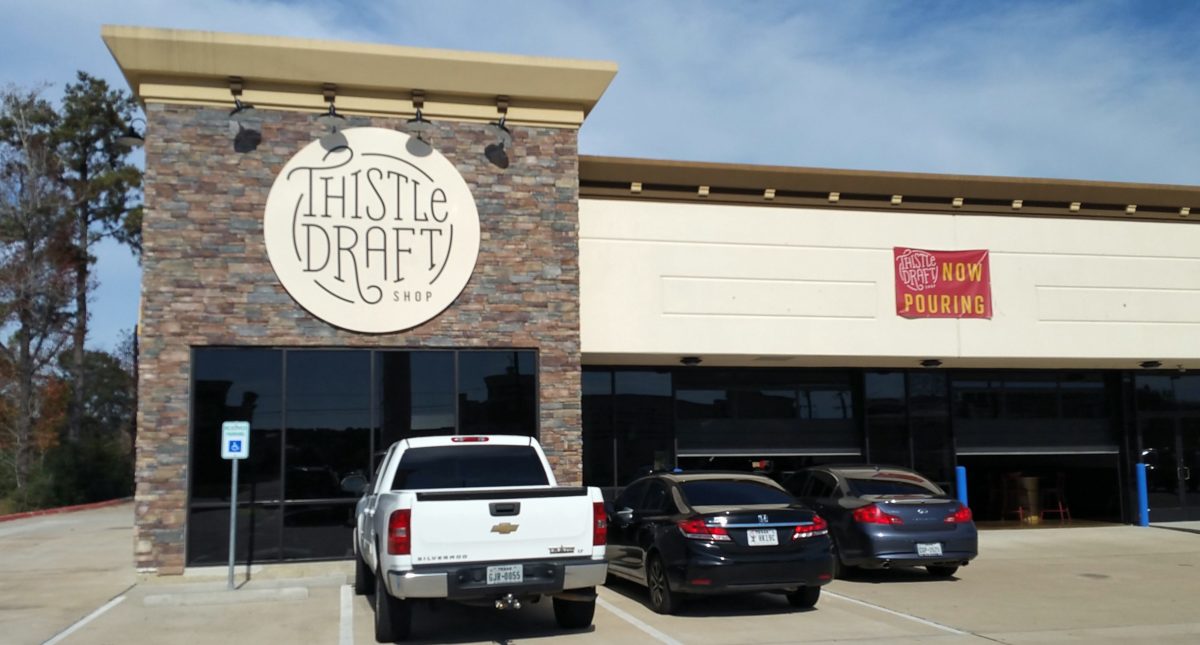 The brand new Thistle Draftshop in the north Houston suburb of Spring is a family affair with the hopes of establishing a top notch craft beer bar in an area where one is needed. Mary Thorn, former Controller at Saint Arnold Brewing, opened Thistle Draftshop last month near the Grand Parkway corridor with her son, Jake, running the location as the General Manager.
Thistle built up hype and excitement for their opening through frequent sharing of the build out process on social media. With each passing day, followers were able to track the progress and anticipate opening. Mary mentioned to us that they ran into a few hurdles at the end that delayed their opening by a couple of months, but everybody, including us, is glad that they are now open.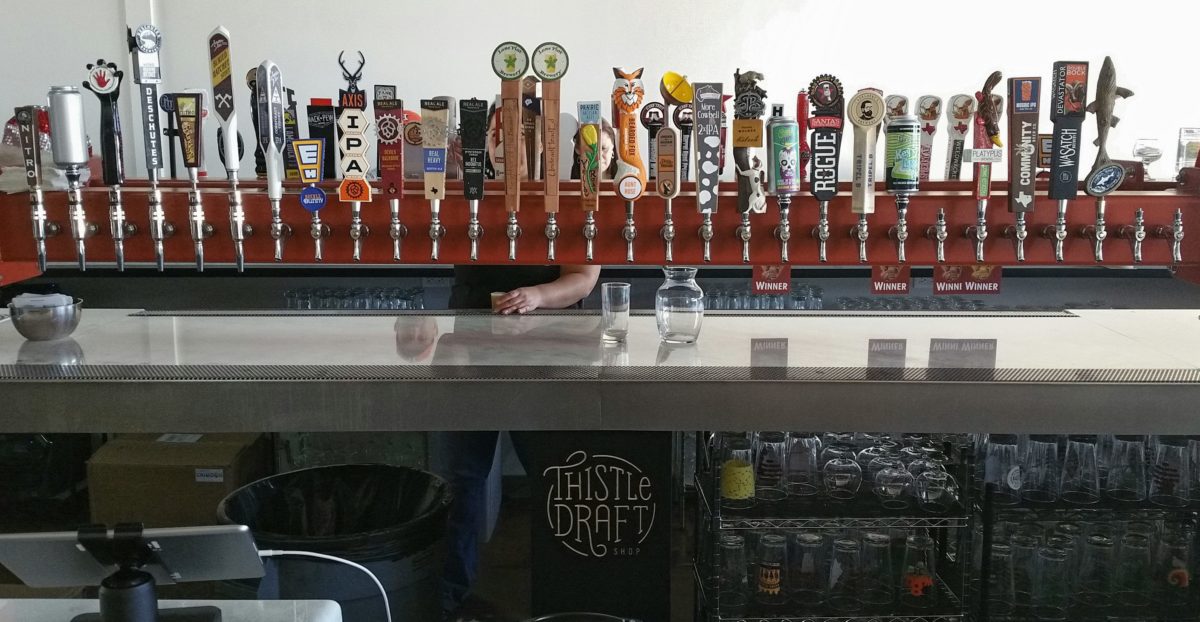 We had a chance to visit for the first time on Christmas Eve. What impressed us upon first glance was the bay doors that open the place up and were perfect for a cool afternoon. Of course, the main draw for any beer lover is the 60 taps that are the centerpiece of the bar area. Talking to Mary, she says that their goal is to provide a balanced tap list that appeals to any type of craft beer drinker. So far, they're accomplishing that with a nice blend of light and dark beers, hoppy and malty beers, in addition to readily available as well as harder to find beers.
The experience that Mary gained at Saint Arnold, balanced with Jake's experience at Ritual position themselves to understand not only the bar industry, but the craft beer industry as a whole. The passion was evident as she spent quite a while talking with us about the goals of the bar. She desires to work closely with distributors and self-distributing breweries to be one of the places to receive limited releases and hard-to-find beers while also being the place for anybody looking for the best take home selection in the area.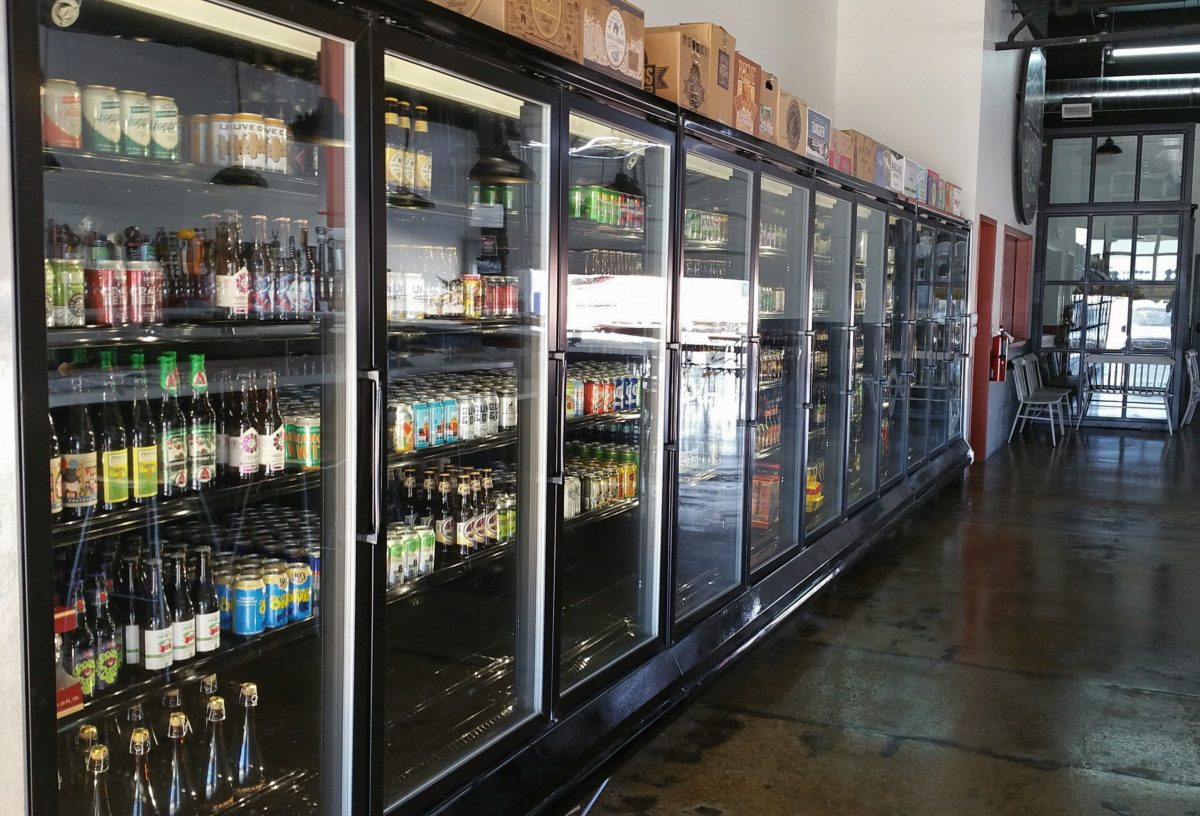 Their to-go menu for beer is amazing. Coolers line the wall filled with six packs, bottles, bombers, pre-packaged crowlers, you name it. Plus, grabbing crowlers to-go from their tap list is ideal considering there are only a select few places on that side of town that can accommodate. We were able to fill a crowler of Lone Pint UndeadHeadEd. The fact they also had Southern Star Black Crack cans available for purchase was exciting considering most places had sold out by that time. Plus, I was thrilled to be able to pick up a bottle of Saint Arnold Bishop's Barrel #19 that was also in the cooler.
For me, what sets them apart from other craft beer bars in the area was their commitment to local Houston area and statewide brews. The local selection on tap was a mix of various beers from Saint Arnold (obviously), Lone Pint, Southern Star, Eureka Heights, Under the Radar, Bearded Fox, Buffalo Bayou, among others. In addition, they had a variety of beers from Texas breweries like Real Ale, Community, and Rahr & Sons. My choices were some beers that you don't see frequently on tap including Real Ale's Real Heavy, Rahr & Sons' Iron Thistle, and UndeadHeadEd. Honestly, many of the other craft beer bars in the area that show a commitment to craft beer tend to carry more out-of-state brews, which is why Thistle is a breath of fresh air.
The next time you're up in the north Houston area, check them out, enjoy some pints, then take home some crowlers to-go. They are a welcome addition to the Spring area.