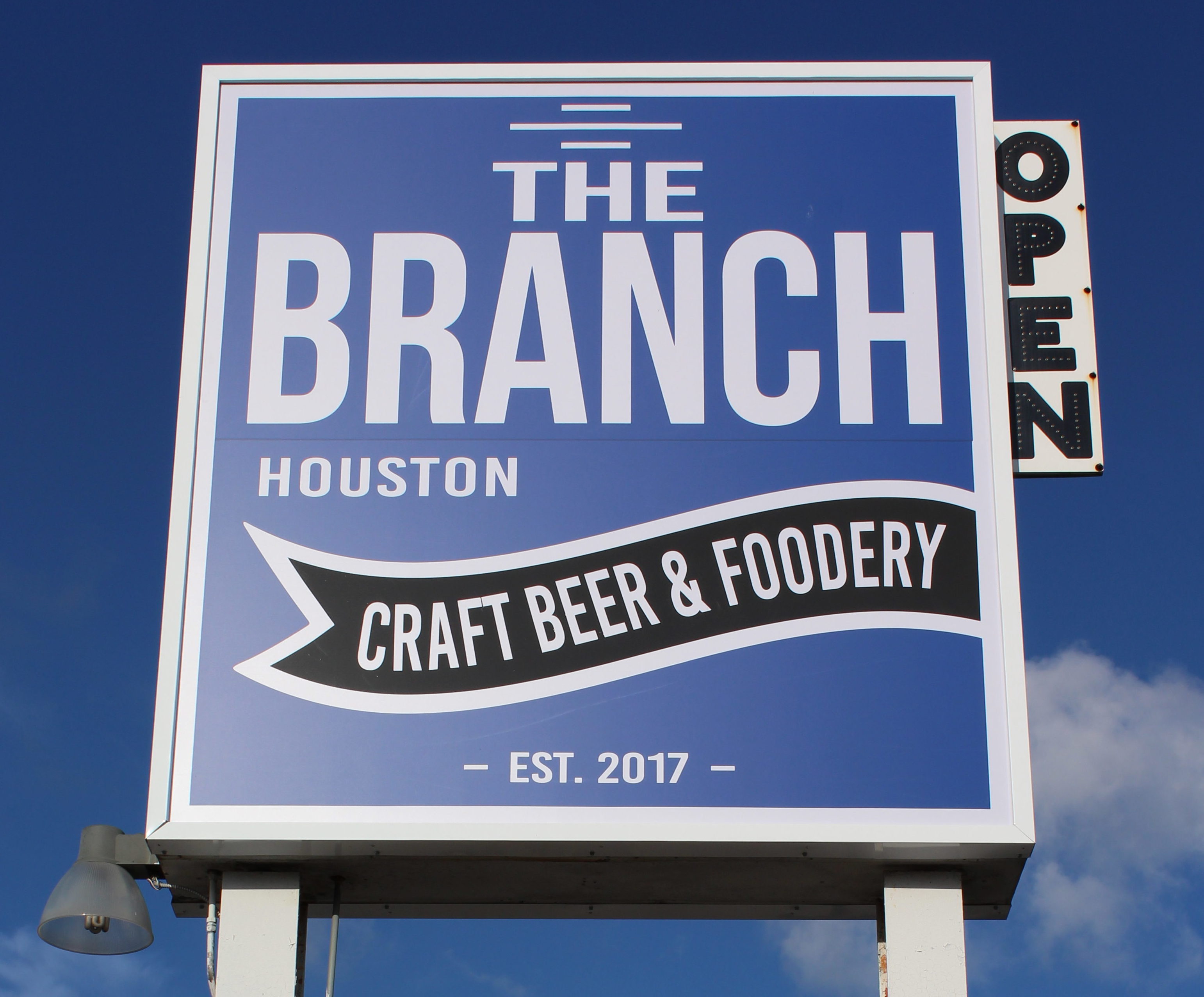 Passion and pedigree. If there was ever a way to sufficiently describe The Branch's owners, Amanda and Kyle Pierson, it's these two words.
Amanda is known as "The Beer Vixen" and has a tremendous social media following. She was the reason why I first heard of the location prior to opening due to her diligent promotion of the new location and progress reports of the build out. What I find so refreshing is her willingness to talk so openly about the process of opening, their future goals and her history of being in the industry. She has her Cicerone Beer Server certification, meaning she is passionate about proper glassware, proper pours, and making sure to provide the best beer drinking experience for the guest.
Kyle was the bar manager at The Hay Merchant for over 4 years, procuring the top notch beer selection for a well-known craft beer destination in Houston. His experience in the industry (he started working at Belgian beer bars in the 90's) has allowed him to accumulate a wealth of knowledge that he brings to his new venture. If you ever visited The Hay Merchant over the last 4 years, you would have probably seen him as he was really the face of the bar – always talking to people and finding out their beer tastes.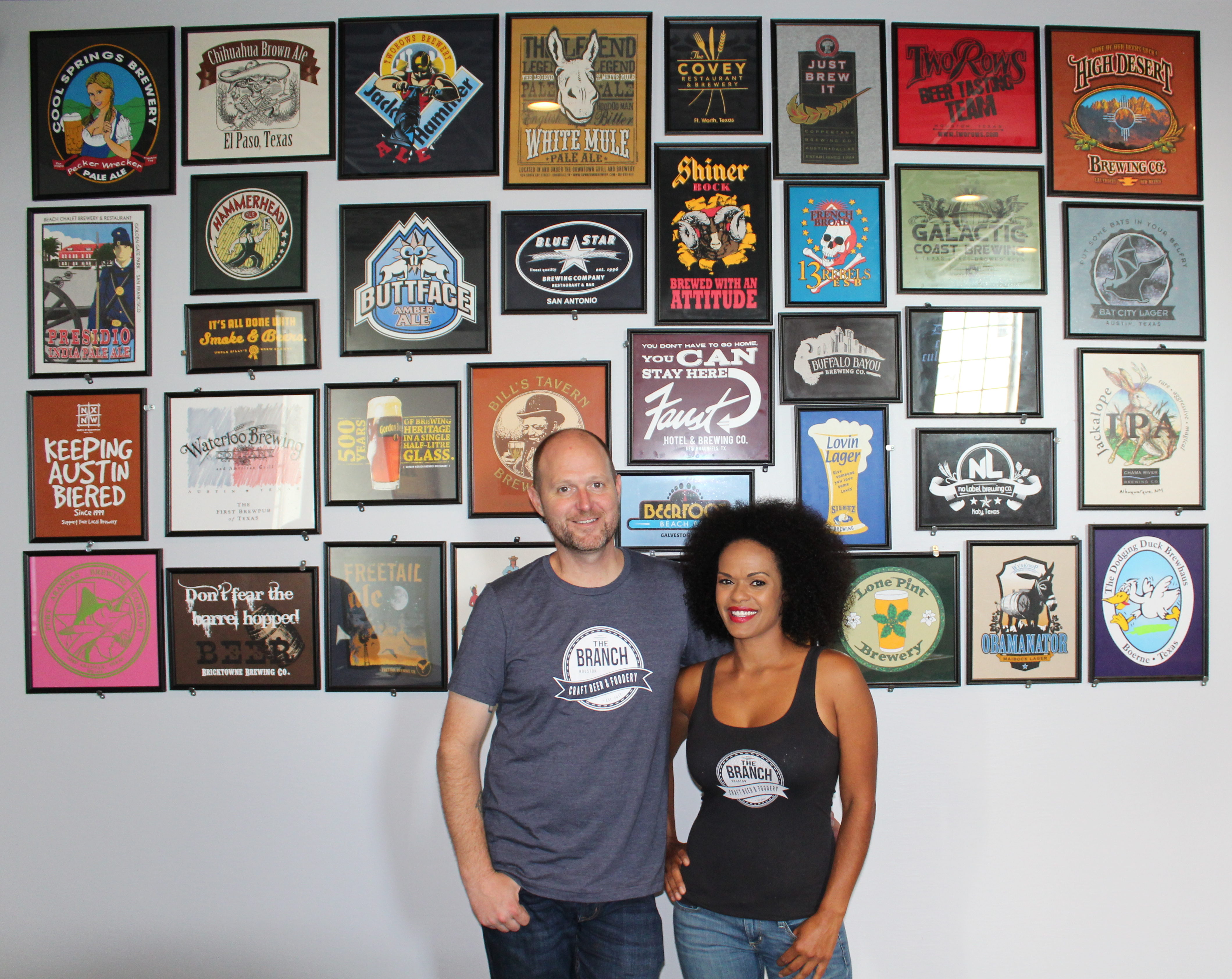 Much has been stated about The Branch opening up in a "craft beer desert" of the Greater Houston area. While there is some truth to that, it's more important to note why this oasis now exists in the Spring Branch area of Houston. The obvious is the fact that they currently have little to no competition within a fairly sizable radius. Craft beer locales just haven't exploded outside of the 610 loop in Houston and most that have opened are a great distance out in the suburbs. Talking to Amanda and Kyle, you see that they knew quite a few people who were driving to places like Hay Merchant, Yard House, or Petrol Station to get craft beer, but you're talking about a 5-10 mile drive in Houston traffic. It's just not worth it for many people.
The bigger, and arguably, more important reason for opening in Spring Branch is because this is home to the Pierson's. This is where they live. This is where their kids are growing up. This is where they wanted to be, and it shows.
Their gastropub is housed in the former space of a Spring Branch institution, Otilia's restaurant. Once the former Mexican restaurant closed their doors, the space became the perfect spot for their vision – sizable kitchen, large covered outdoor seating area, huge indoor space, and space for a large bar. Plus, it didn't hurt that they stated they got one of the most tenant-friendly leases they had ever seen, meaning they will be there for a long time and not looking to move the location anytime soon.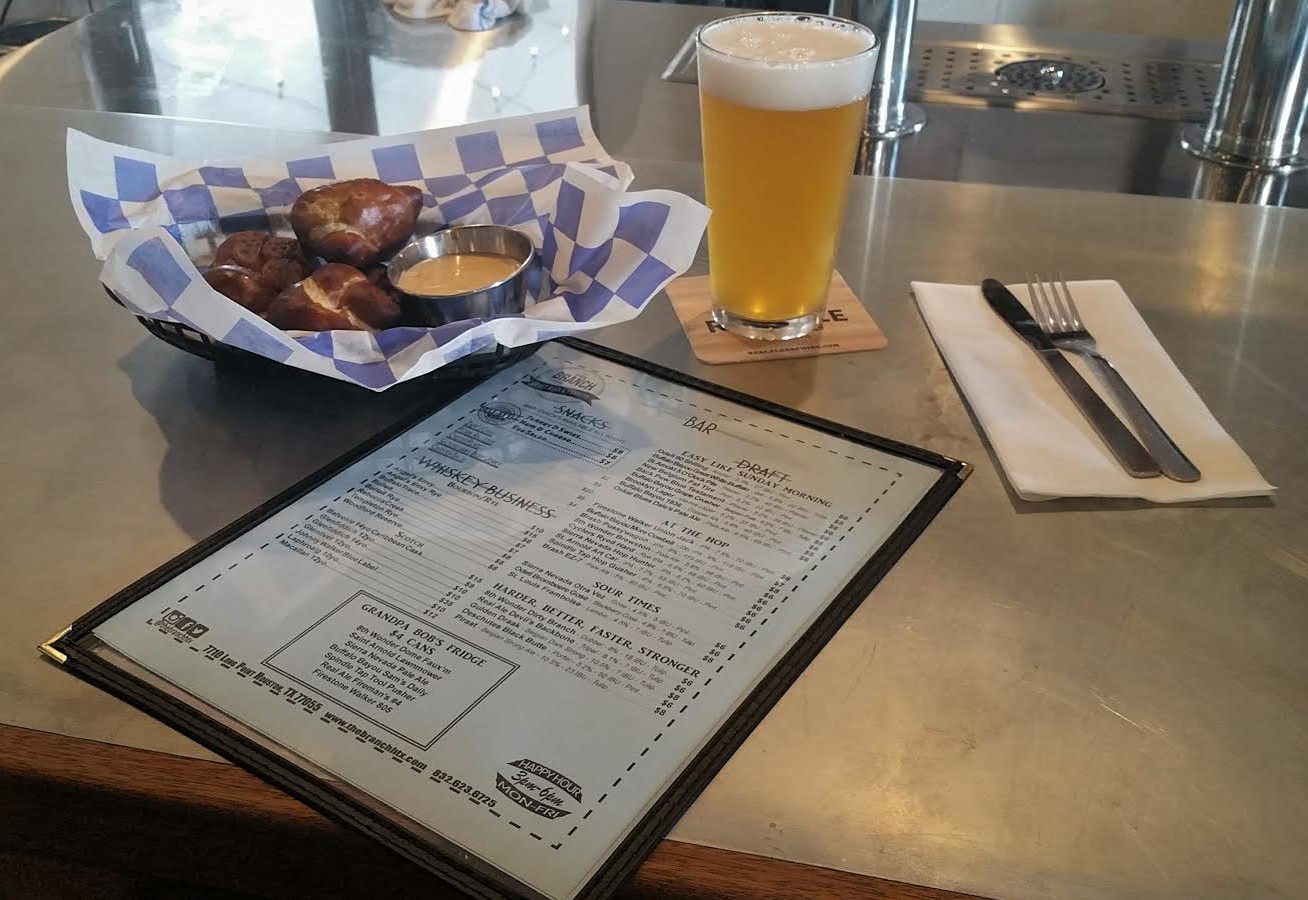 First, let's talk about the food. It's not your normal bar snack food. This is top notch, restaurant-quality food made by yet another person with an impressive pedigree. The Pierson's recruited Madeline Cabezut from Underbelly restaurant to take over their kitchen and customize a menu that works for everybody. She's crafted a mix of light snacks like pretzel knots with a Gouda cheese dipping sauce (shown above), meatless options like their well-received tofu-tomato salad that is even impressing non-Vegetarian guests, and the choice I will get next time, the H-Town Cheesesteak that has marinated sirloin tips, grilled onions and peppers, jalapenos, and cheese sauce. Expect the food options to blow your mind without breaking your wallet.
While the food quality and choices were an unexpected bonus, the reason I was drawn to The Branch is the craft beer selection. Both Kyle and Amanda were quick to explain that they have huge plans for procuring an amazing craft beer selection. The options were already stellar, so I asked for them to elaborate on what they meant.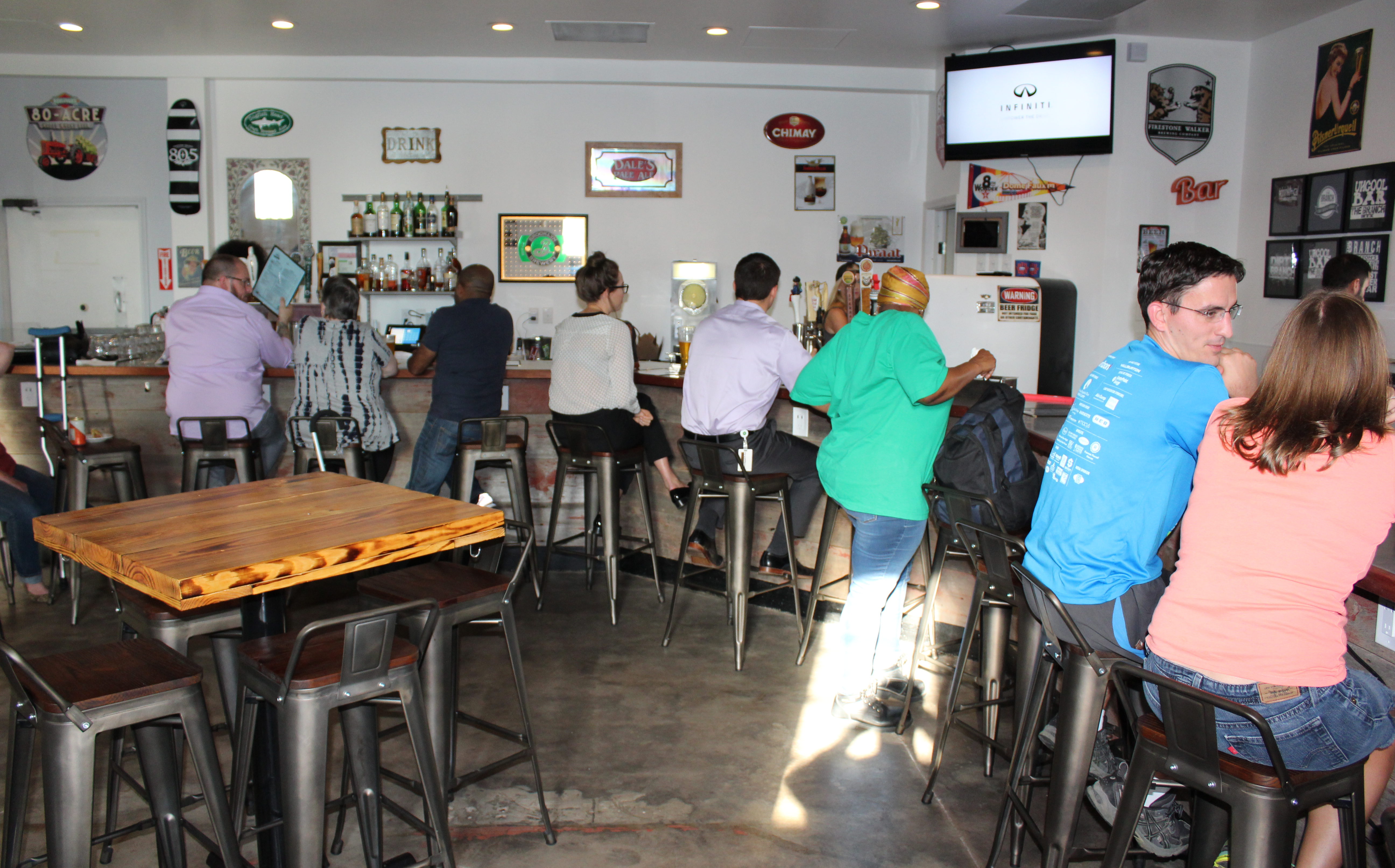 Initially, their taps were filled with a great mix of local beers like Saint Arnold Art Car, Buffalo Bayou 1836, Brash EZ-7, and 8th Wonder Brewston, among others. They also had national favorites like Firestone Walker Union Jack, Oskar Blues Dale's Pale Ale, and Deschutes Black Butte. What I found really impressive was their house specialty beer from 8th Wonder called Dirty Branch that is a renamed version of the EaDo brewery's Belgian tripel, Premium Goods. They gained special permission from the brewery to have it renamed to Dirty Branch at their location only. During my visit, they had a few Belgian beers on tap with Gulden Draak and Piraat being the most notable, but their goal is to have many more of these options. Kyle and Amanda both worked in New York City at Belgian beer bars and they have a passion for the best Belgian beers created. They intend to have a special section dedicated to some of the better Belgian beers like Chimay, Rodenbach, Rochefort, etc. Plus, they intend to do some tap takeovers as they continue to work closely with the local breweries. Kyle also mentioned he has a grand goal of doing a complete tap takeover where every tap is one beer from a different Houston brewery. The logistics on something like this are nightmarish, but if anybody has the connections and pull to get this going, Kyle may be the guy to do it. As they continue to work with different distributors and self-distribution channels from breweries, they will have a more diverse rotating selection at The Branch in the future.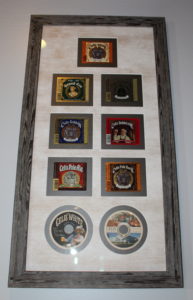 One of the things that makes The Branch truly special is some of the art they have depicted on their walls. It turns out that a friend of Kyle's had a collection of craft beer t-shirts that were framed and not needed anymore. The ones that he got are some of the most unique and rare shirts you'll find with many from now-defunct breweries that helped shape the Texas craft beer scene we have today. Shirts from breweries of yesteryear like Waterloo and Two Rows line the walls along with other current and smaller breweries from Texas and beyond.
In addition, you'll notice a relic of a brewery resurrecting in Austin. Celis Brewery's original labels and coasters are on display near the bar and we are hoping that someday, we'll see Celis White out on the taps at The Branch as well.
Finally, the space. The space is sprawling with an enormous L-shaped bar, ample table seating near the bar, as well as more intimate seating in the back away from the crowd. If none of that suits you, the table service on their covered patio ought to be the right fit. I quickly imagined myself sitting outside on a cooler evening, sipping a cold beer, eating the Bulgogi Bisteca, and hanging out with friends. This is probably the perfect setting for anybody looking to bring along good company.
The Branch is one of those places that has a comfortable local feel from the get-go. The welcoming nature of Amanda and Kyle Pierson is what will keep you coming back, while the staff is always willing to ask what you liked/disliked about the food, beer, etc. Finally, Spring Branch has a local hotspot within their community, but even if you aren't from the area, once you try this place out, you'll be drawn to return here over and over again.
Wanna head over there? Check out their contact details below.
The Branch Craft Beer & Foodery
7710 Long Point Rd
Houston, TX 77055
Hours of Operation:
Monday-Wednesday 3:00 PM to Midnight
Thursday-Friday 3:00 PM to 2:00 AM
Saturday 11:00 AM to 2:00 AM
Sunday 11:00 AM to Midnight
Contact Information:
Website: http://thebranchhtx.com/
E-mail: info@thebranchhtx.com
Social Media: Facebook, Twitter, Instagram