Thank you for being a friend. Travel down a road and back again.
Why in the hell am I singing The Golden Girls theme song? Betty Freakin' White. That's why. Stuff like that happens at Eureka Heights when you see an enormous framed photo of the television icon. Stuff like that happens when you check out Eureka Heights' Twitter page and realize they follow one person. Who's the only account they follow? You guessed it…Betty White.
The brewery loves them some Betty White, but that's not the real reason why we visited. Mainly, it was to check out their latest IPAs – the Saint Arnold Art Car tribute beer, Chop Shop, and the limited release, Mini Boss. Both beers are tremendous IPAs that have me questioning whether Eureka Heights has ascended to the throne of best IPA brewery in the Greater Houston area. The difference with these guys is consistency as it always seems to taste identical from batch to batch, bar to bar.
Eureka Heights has enjoyed popularity pretty much since day one. They've mastered utilizing social media for their promotion, while already establishing themselves as one of the top breweries in the area in a short period of time through their beer distribution. I'm sure it doesn't hurt that the brewery located in the heart of Houston Heights on 18th Street near Durham Dr. During our visit, we saw several Heights-area locals who bicycled over to the taproom.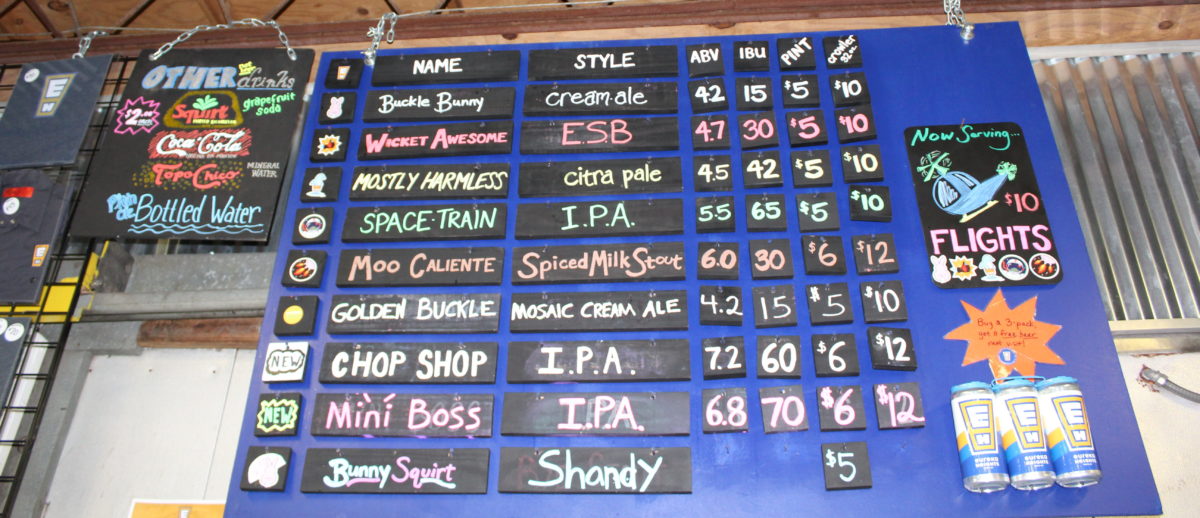 Bicycling to the taproom is possible due to the brewery focusing on sessionable, easy-drinking beer. With various styles like a cream ale, a kolsch, an ESB, and even a spicy milk stout, people can visit the brewery and drink a few without being fall down drunk in the process. Refreshingly, the brewery's core beers are all 6% or less in ABV, making them accessible to all types of beer drinkers.
However, all bets are off on the non-core options with Chop Shop being one of their highest ABV choices at 7.2% and Mini Boss not far behind at 6.8%. The high ABV is not why I love them, it's the execution of a style that is oversaturated in the market. Nowadays, it's becoming more difficult to find a truly great IPA that wows us. Chop Shop did that a couple of months ago and was the star of the Saint Arnold tribute beers. Honestly, we would be thrilled if this beer becomes a permanent fixture, even though it was intended to be a one-off to honor Houston's granddaddy of breweries. The beer is a triple dry-hopped beer loaded with Citra hops. The result is a fruit bomb that finishes so clean and dry.
Mini Boss is a similar beer, but with more Mosaic hop flavor culminating in a dry and dank finish that will make you yearn for more. For me, this beer is even more enjoyable than Chop Shop due to the perfect balance of bitter and sweet flavors.
One of the only drawbacks was the intense heat inside the taproom. No air conditioning in a warehouse building reminded me of the old Saint Arnold days in their first location. Houstonians need an air conditioned space for people to enjoy and we hope this is one of those upgrades they will make in the future that will make this place an even better daytime hangout in the summer months. Right now, I'm going to wait for an early fall cool front before my next visit to the taproom.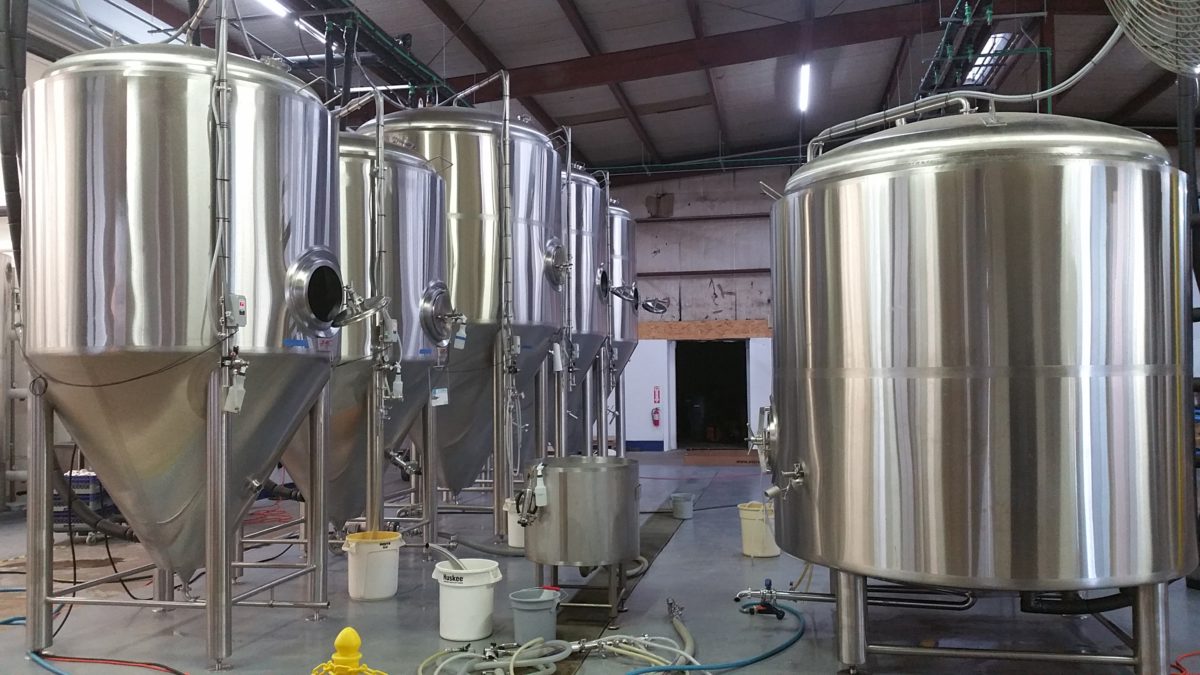 It's not all gloomy, though. The taproom is a spacious area that really has four separate spaces for you to enjoy. There is a patio that is dog-friendly, an indoor area right in front of the beer taps with picnic tables, a spacious area behind their offices near the enclosed brewhouse, and an area in the back of the taproom near the fermenters. All of the areas are accommodating and allow for several people to get together to enjoy the beer, and more importantly, the brewery taproom can handle quite a few people without filling to capacity and feeling cramped.
If you thought the love of Betty White is strange…screw you, she's awesome! The quirkiness of the brewery is shown with their love of jorts. The jorts chart displayed proudly in the taproom is possibly one of the funniest things I've seen. Your classification of jorts depends on your length – if they're at the knee, those are just pants. However, if you have them cut high, you probably can quote every line of the movie Coyote Ugly. These aren't guesses, they're scientific facts analyzed in the lab at Eureka Heights (probably not, but maybe…who knows?).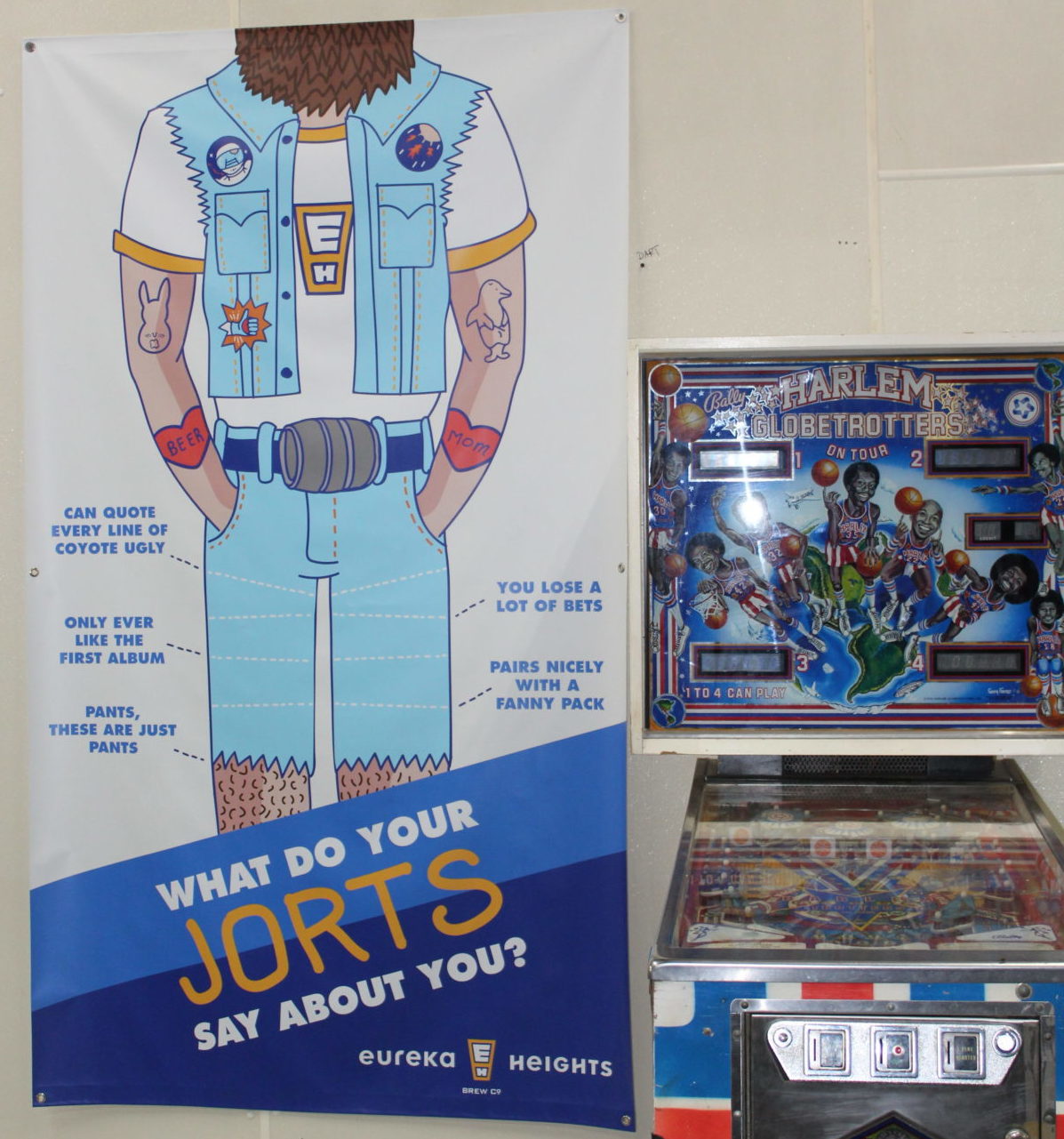 Ultimately, you gotta love these guys. Once you drink their beer, you'll realize the brilliance of what they're making and understand how valuable they are to the Houston craft beer community. It's not like they're the first Houston brewery newcomers to hit the city with a bang; it's just that nobody is doing it with quite the sense of humor they are. Oh, Eureka Heights…your heart is true. You're a pal and a confidant. Thank you for being a friend.
Follow them on Facebook, Instagram, and Twitter for Eureka Heights news, events, and happenings around town. Also, check out their website for information on the beer and more about the people behind the scenes giving high fives, kicking ass, making beer, and taking names.